[Originally published by the OECD Observatory of Public Sector Innovation (OPSI) under a Creative Commons Attribution – ShareAlike 3.0 IGO (CC BY-SA 3.0 IGO). This post was joint authored with Heather Buisman.]
The last few months have been a period of immense growth and learning, personally and within governments and organisations. This crisis has demonstrated an overwhelming need, opportunity and business case for why innovation is essential and possible in government. We have collectively experienced a terrible shock – and while the crisis continues and evolves, we need to make sense of that shock, to understand how we need to change and adapt to a world that will never be the same again. 
To support governments and to learn from this crisis, we have been  gathering experiences and associated insights through our innovative responses tracker, sensemaking activities, and dialogues network with like-minded events. In the tradition of the OECD as a convener, we are working to connect and build on many of the important conversations going on. We are helping to curate a global dialogue as we lead towards the 17 – 18 November event on Government After Shock: an event that doesn't just start and end in November, but rather, serves as a focal point and platform for reflecting upon the crisis and what it has revealed about the role and expectations of government, now and into the future. Government After Shock is being run with the support of the European Commission through its Horizon 2020 Programme.
What is 
Government After Shock
?
The vision for Government After Shock came out of the reality that the world we live in is rapidly changing, and government needs to rapidly innovate to keep pace. Moreover, the way that we "do" global events, international collaboration and diplomacy also needs to evolve to a changed context.  
This year we faced a collective, global trauma and crisis. We have an opportunity for a collective conversation about how we move forward for the better, both in local contexts and internationally.  
Over the last few months, we conducted a co-design exercise to ensure that the vision and format of the Government After Shock event and conversations will be relevant, practical and beneficial to participants and collaborators. 
What we heard from the exercise was an affirmation of the need for structured reflection and learning from the crisis, and the value of international connections and collaborations. We heard the need for an event that combines diverse and engaging formats so as to be relevant across different complex contexts and country situations. We heard the need for flexibility in an environment of uncertainty about how the crisis will play out over the intervening months until November. 
We heard an appetite for ensuring that everyone can be brought to the table as equals, valuing the inputs of all and making sure that all participants can join the conversation building on common learning. We are working hard to translate this into an engaging event, and an evolving conversation that can be participatory and accessible around the world. 
Event Format
Out of these discussions, we've come up with an event format the convenes local, thematic and regionally relevant discussions on Day One (17 November), with global reflection through a high level forum on Day Two (18 November). The local events, as well as the agenda and speakers for the high-level forum will be announced over the coming month on our event landing page.   
Local Conversations, Global Dialogue
 – 17 November
The format of day one is focused on reflecting upon the crisis, sharing experiences, learning from each other, and working through options and ideas of where to next. We want hosts and participants to learn, make sense of, and explore both what has happened, and where to go next. This is an exploration of the potential of government and the public sector in your own subject and work area. These experiences will be captured and inform public sector bodies around the world.  
Day one will involve events held by a diversity of hosts at a local level (such as within an organization, with a clustering of organisations, a regional hub or a thematic cluster). The scale of these events can range from a simple organised discussion around a virtual or physical boardroom table, to a large-scale virtual panel. They can be openly accessible to all who wish to participate, or closed for a particular audience or organization.  
If you are interested in hosting a local event, big or small, please check out the guidance on our site, and reach out to indicate your interest. We will provide a menu of options that hosts and participants can use, and will work with you to help your event come to fruition, and contribute to a global dialogue. We have also launched a collaborative space for event hosts and organisers to share ideas with each other, link events, and connect conversations. 
High Level Forum – 18 November
The high level forum will gather practitioners, thought leaders, policy makers, and political leaders from around the world to reflect upon how we can collectively move  beyond crisis. These discussions will build on the insights from the innovative responses we have witnessed from governments and others, on our work to make sense of the emerging narratives and perspectives about what must come next, and upon the discussions of the first day of the event. These insights will be used to encourage and prompt leaders and practitioners to reflect on what needs to happen next and how they will make that happen. Our aim is to ensure that the many hard-won lessons from the crisis are absorbed and integrated into the public sector. The event will include a mix of high-level dialogues and practitioner-led sessions that are accessible to a global audience.  We will also include opportunities for breakout discussions and networking for event participants. 
Our focus for both days of the event, as well as the dialogues network discussions and sensemaking activities in the lead-up to the event remains centred around three core questions that will help us all understand what the crisis has revealed about the role and expectations of government, now and into the future.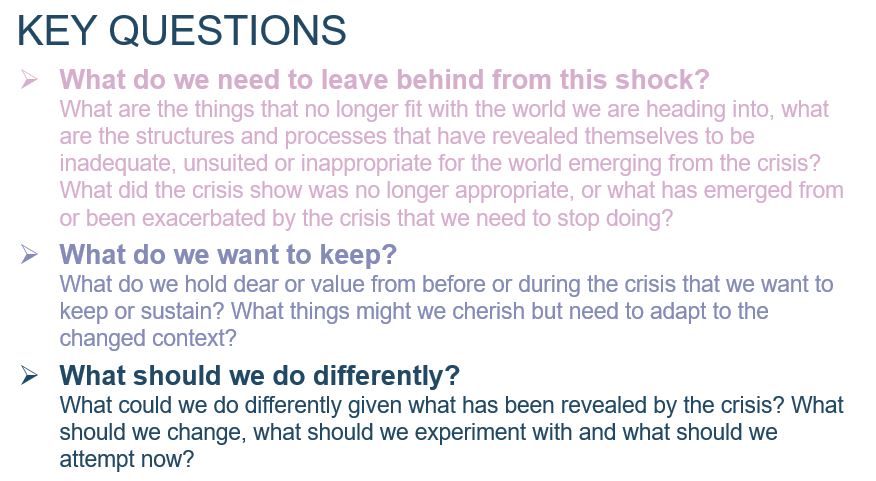 We hope the contributions to these questions will help us collectively articulate and explore what the future of government could be, and help us all to take action in steering towards those futures.  
Government After Shock will inform and shape a 'Call to Action', encapsulating the diverse lessons from the crisis and the implications for governments and how they engage with, prepare for and anticipate change.
How can you be involved? 
We encourage participation from all around the world, regardless of sector, discipline or context. All we ask is that participants be open to exploring the above questions with an innovative mindset, as well as sharing a desire to learn, inform and steer towards a better future for government and society.   
Collaboration Options: 
Attend 

Government After Shock

 – Visit our event webpage to learn

more about the event programme.

Learn more

and reach out to us if you are interested in hosting a local or thematic event on 17 November. This can take a variety of forms, large or small, in-person or virtual. We can discuss your vision for the event, provide parameters, and support you in helping it come to fruition.

You can also join the host 

community space

to discuss event possibilities and collaborate with other hosts.

Read our 

blog

 and subscribe to our 

newsletter

 for our latest 

#

GovAfterShock sensemaking updates and Dialogues Sessions.