[Originally published by the OECD Observatory of Public Sector Innovation (OPSI) under a Creative Commons Attribution – ShareAlike 3.0 IGO (CC BY-SA 3.0 IGO).]
How do countries get insight into the big issues that are affecting them, such as the refugee crisis or youth unemployment? How do they come up with new ways of seeing problems that allow for new ways of responding?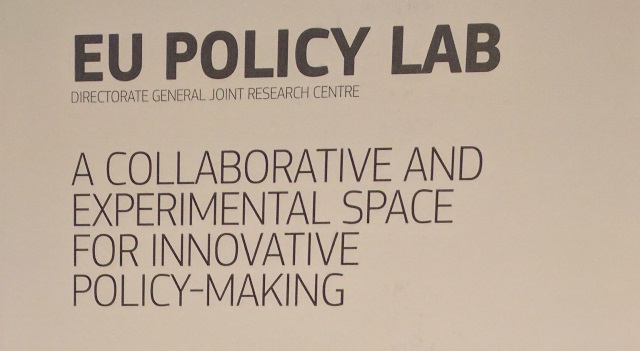 On the 17th and 18th of October the European Commission hosted the event "Lab Connections: Policy Labs in Europe, for Europe" to look at one mechanism that is increasingly used by governments to come up with new approaches: innovation and policy labs.
The two day event opened with a setting of the scene: that we work in a world that is more inter-connected than ever before and where the impacts of bad decisions reveal themselves much sooner. Such an environment requires experimentation and innovation by government, and policy labs are an important mechanism for this. A comparison was made to the CERN superconductor which creates the favourable conditions for particles to collide, leading to new discoveries. Labs are an attempt to do this for the human mind, to create the conditions to allow new discoveries which will bring needed change into policymaking.
The event was an opportunity to bring together practitioners from a number of labs from around Europe. Prior to the event the Commission published their mapping of public policy labs in European Union member states, demonstrating the spread of labs and the variety of their work. These and other labs were represented at the event, helping build connections between labs, between labs and policy makers, and to share lessons.
We heard about the establishment of the European Commission's EU Policy Lab, and the intent for it to help with the policy work of the Commission. The Lab also offers a forum for helping connect the labs of Europe, to assist with the exchange of best practices, and to see how labs might collaborate on particular policy issues shared by much of Europe (e.g. youth unemployment).
We then heard from senior leaders from different countries about different country experiences and the shared need for innovation, including Maria Manuel Leitão Marques (Minister of the Presidency and of Administrative Modernisation, Portugal), Rait Kuuse (Deputy Secretary General on Social Policy, Minister of Social Affairs, Estonia), Nicolas Conso (Directeur Adjoint, Direction Interministérielle de lÁccompagnement des Transformations, France) and Ira Alanko (Project Manager, Prime Minister's Office, Finland).
A common thread of the discussion was how public sector systems can not only make room for the acceptance of mistakes, but even go so far as embracing them so that they can be learnt from. This requires experimentation, the use of multi-disciplinary approaches and design thinking, and systematic support for innovation. How do governments share good practices? How does the public sector accelerate promising projects that might make a difference? How is innovation funded and supported? How are public servants introduced to and trained in new approaches? How are they given actual experience of using these approaches?
Panel participants identified some common elements for such a systematic approach, which included:
openness and engagement with citizens
ensuring leadership support and that senior managers also have the opportunity to test and learn from these new approaches
connecting innovation with mainstream issues/core business and identifying what innovation leads to, including by sharing success stories, and
building a habit of experimentation.
One example which provided a great illustration of a country putting this into action was France's beta.gouv.fr website, for testing and using new approaches before switching away from the previous approach.
In the next session there was discussion of how to implement experimental, creative and citizen-centred approaches in the public sector. Edwin Lau (Head of Division, Public Sector Reform, OECD), Cat Drew (Senior Policy Advisor at UK Policy Lab, UK) and Stéphane Vincent (Délégué General, 27éme Région, France) spoke and shared their experiences. This session helped put innovation labs in context, as part of a broader innovation ecosystem. Labs have the advantage of being able to work in agile ways, but creating a lab is not going to be all that's needed. There needs to be a sharing of stories and experiences, the fostering of networks that can help public servants who want to try new things but who might otherwise feel that they are in a vacuum, and there needs to be encouragement from senior leaders as well as engagement from the bottom-up.
Cat Drew shared that the UK Policy Lab supports government departments in using better design, data and digital approaches and it does this through three main activities:
Doing real projects that deal with real policy issues
Experimenting through project projects, and looking at new ways of working to help uncover 'next practice', not just best practice, then diffusing that through training and write-ups
Communicating with the public sector in the UK and internationally through events and blogging and other channels about their experience and to learn from others.
Stéphane Vincent spoke of how 27éme Région began as a group of frustrated people who wanted a place to try to do things differently. The lab now runs action-research programs to test new innovation methods and works with public sector agencies in partnerships. It helps empower public servants with ethnographic and design mindsets and gives them experience in applying these methods to real projects.
A number of important points were raised in the discussion of the key things to consider when setting a lab up:
Where will the lab be placed? If it is in the centre, it will be closer to the levers of influence (but it may find it harder to be more radical)
How will the lab help create the right conditions for frontline staff?
How will the lab support different mindsets and approaches? Data and digital can help create better insights and lead to the automation of services, but design can help ensure that those services are still seen as 'human' and trustworthy
Labs may want to start a bit 'under the radar' at first to help develop the proof of concept and establish how the lab will work and what it will do
Labs should get into prototyping straight away
There should be a clear sense throughout projects of who might benefit from the project
Labs can be an investment in public services but increasingly there will need to be a better illustration of how the return on investment, and how labs contribute value
Labs need to be aware of their context. Each lab will be different depending on the local culture and context
Labs are not just about improving policies, they are also about improving the lives of civil servants, and helping connect with real meaning and impact. Innovation is about how to improve things, and is thus an important part of the policy making approach. Labs may be the way to do that innovation in a more systematic fashion, by providing a space for manageable risks in the public sector environment.
We then heard from European Commission Vice President, Kristalina Georgieva, and Tibor Narvacsics, European Commissioner for Education, Culture, Youth and Sport. They spoke about how public administration is moving from a relatively closed and stable system, with life-long careers, to one where decision-making is being opened up in order to get new ideas into policy. Public sector institutions are finding it difficult to adjust and that requires some shifts:
The public service needs to become better able to anticipate things that we cannot even imagine and respond appropriately. This requires innovation.
Institutional innovation needs to be made 'not scary'. This will require the presence of mechanisms such as labs that can help with the cross-fertilisation of ideas and lessons.
There is the opportunity for jurisdictions and different organisations to work together, to collaborate better and labs may be a way of helping with that.
The point was made that there is a fundamental driver for innovation inbuilt in democratic politics, and that is elections and the choosing between options and ideas.
There was also some sharing of lessons, challenges and opportunities by Jesper Christiansen, Senior Programme Manager at Nesta. Jesper spoke about how labs can act as a dedicated space for innovation, and could add value by being user-centred and transforming the complexities of our lives into possibilities rather than challenges. He spoke about how labs are contributing to a new practice of policy-making, but this practice needs to be owned by the core policy areas, not the labs. Labs can help by contributing towards cultural change for the public sector, where such approaches are welcomed. In this way labs are acting as a 'research and development' capability for governments, and creating opportunities for people within the system to do things in new and better ways.
For the remainder of the Lab Connections event participants were divided into workshop groups to look at specific policy challenges and how the different players might collaborate. Topics included youth employment, education, migration, and how to assist start-up firms. Each group looked at the issues and were supported in coming up with new approaches and presented back at the end of the event about one idea that could be turned into action.
It was a great day and a half, and I think the European Commission did a great job in pulling together the event. I look forward to seeing what its own lab does and how the labs of Europe might work together on shared problems.